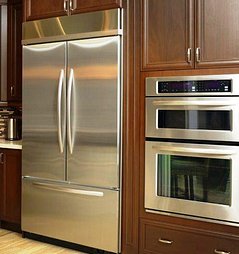 We have been in business 15 years
Let us prove we are different
We fix all brands and models
We do repair and maintenance
FRIGIDAIRE REFRIGERATOR REPAIR
NY Refrigerator Repair Specialists is the premier service provider in Frigidaire appliance repair. It prides itself for staying on top of Frigidaire's latest products and service innovations for all appliance sectors, to ensure that our appliance technicians are first in line for product training on all new Frigidaire appliances.
Frigidaire brand appliances are one of the most popular products in the industry today.
Frigidaire is the US consumer appliances brand subsidiary of European parent company Electrolux. Frigidaire was founded as the Guardian Frigerator Company in Fort Wayne, Indiana, and developed the first self-contained refrigerator in 1916.
In 1919 it adopted the name Frigidaire. The brand was so well known in the refrigeration field in the early-to-mid-1900s that many Americans called any refrigerator (of whatever brand) a Frigidaire.
The company introduced the followings into the industry: the first box refrigerator, home food freezer, room air conditioner, 30 inch electric range and etc.
Recently Frigidaire was named the most reliable brand among leading appliance brands with the lowest number of service calls. With Frigidaire, you can be sure you will receive effortless features and quality materials, giving you the highest quality performance for the life of your appliances at affordable price.
Frigidaire produces wide range of appliances that include kitchen appliances such as ranges, cooktops, ovens, stoves, dishwashers, refrigerators, microwaves, washer and dryer machines and etc. NY Refrigerator Repair Specialists proudly services all of them.
Over 15 years of experience in the industry

Certified, trained and insured technicians

Flat rate pricing (No hourly rates, no extra charges for late or extra hours or weekends)

Same day repair services

90 percent of repairs done on initial visit

Flexible and convenient appointments

Profesional 24/7 customer service

No payment until your appliance is fixed

Extended warranty for parts and labor

We are local, based in the New York City

Fully-stocked trucks (our technicians have large inventory of major parts in stock in our vans)

Free service call if we do the job
With continual usage, your refrigerator can experience a lot of issues that may need a comprehensive overhaul or tune-up. We provide full repair service with best in the industry 90 day to a 1-year service warranty, for whatever fault your refrigerator is experiencing:
Temperature and cooling issues

Freezer and fridge leak issues

Defrost and drain clogging issues

Excessive frost and icing issues

Seal system and freon leak issues

Control panel and power control unit issues

Compressor issues

Evaporator and condenser coil issues

And many other refrigeration issues.
Why choose NY Refrigerator
Repair Specialists
Common refrigerator problems we solve
Refrigerator is not cooling

Refrigerator ice maker is not making ice cubes

Refrigerator door needs gasket replacement

Refrigerator water dispenser is not working

Refrigerator ice dispenser is not working

Refrigerator door is wet inside

Refrigerator compressor is not working

Refrigerator compressor is clicking

Refrigerator is leaking water

Refrigerator coils need to be cleaned

Refrigerator needs routine maintenance

Refrigerator stopped cooling completely

Frost buildup in the refrigerator

Refrigerator drain is clogged

Refrigerator is beeping or alarm is on

Refrigerator control panel is down

Refrigerator making noise or too loud

Refrigerator is vibrating, shaking

Refrigerator is freezing food

Evaporator fan motor is not spinning

Refrigerator service sign is on

Refrigerator light is not working

Refrigerator has freon leak issue

And any other refrigerator problems
We stock almost 90 percent of all refrigerator parts, so your repair would be done within the same day.
Our reasonably priced services will allow you to get the best appliance repair service at an affordable rate. We back up our work with a 100% guarantee. Our Frigidaire technicians are professionally trained and some have 25 years of experience in the industry.
All it takes is a phone call to 212-203-7844 or online booking form fill-up to get in touch with NY Refrigerator Repair Specialists. So, don't wait, invite one of Electrolux/Frigidaire certified refrigerator repair technicians from NY Refrigerator Repair Specialists and join thousands of happy customers all around New York City.
For over 15 years, NY Refrigerator Repair Specialists has been meeting the appliance repair and maintenance needs of New York City (Manhattan, Brooklyn, Queens, Bronx and Staten Island) and surrounding areas. We are a local, fully certified and insured business and our success is based on providing first-class service to all our customers.
So, whether you need Whirlpool repair service, regular maintenance or if it is time for a new appliance, please give us a call to schedule an Whilpool expert consultation.
Refrigerator parts we replace or repair
Refrigerator circuit board

Refrigerator compressor

Compressor run capacitor

Compressor start relay

Condenser fan motor

Defrost heater

Refrigerator evaporator

Evaporator fan motor

Heat exchange

Ice maker kit

Ice dispenser motor

Ice maker assembly

Ice maker control module

Ice maker fill tube

Ice maker optic boards

Inverter or compressor electronics

Light switch

Overload/PTC relay

Printed circuit board (PCB)

Power control board

Refrigerator door hinge

Refrigerator door gasket

Temperature control board

Temperature control panel or display

Water inlet valve

Water dispenser

And other parts
We service the following neighborhoods of New York City
Manhattan: Alphabet City, Battery Park City, Central Park, Chelsea, Chinatown, East Harlem, East Village, Fashion District, Financial District, Flatiron District, Gramercy Park, Greenwich Village, Harlem, Hell's Kitchen, Inwood, Kips Bay, Lincoln Square, Lower East Side, Manhattan Valley, Midtown East, Midtown West, Morningside Heights, Murray Hill, NoLita/Little Italy, Roosevelt Island, SoHo, Times Square, Tribeca, Upper East Side, Upper West Side, Washington Heights, West Village and others.
Brooklyn: Bay Ridge, Bedford-Stuyvesant, Boerum Hill, Borough Park, Brighton Beach, Brooklyn Heights, Bushwick, Carroll Gardens, Clinton Hill, Cobble Hill, Crown Heights, Downtown Brooklyn, Dumbo, Dyker Heights, Flatbush, Fort Greene, Gowanus, Gravesend, Greenpoint, Kensington, Marine Park, Midwood, Park Slope, Prospect Heights, Prospect Park, Red Hook, Sheepshead Bay, Sunset Park, Williamsburg, Windsor Terrace and others.
Queens: Astoria, Bayside, Beechhurst, College Point, Corona, Elmhurst, Flushing, Forest Hills, Fresh Meadows, Jackson Heights, Jamaica Estates, Jamaica Hills, Kew Gardens, Long Island City, Maspeth, Middle Village, Queens Village, Rego Park, Ridgewood, Sunnyside, Whitestone, Woodside and others.
No matter how dependable Frigidaire refrigerators are, based on the use even the best brands may need some maintenance.
So when you have an issue with your Frigidaire appliance, no matter if it is a range, freezer, fridge, stove, oven, cooktop or washer or dryer, don't get frustrated, all you need to do is contact us! We provide our customers with fast, reliable and affordable refrigerator repair. NY Refrigerator Repair Specialists is your one-stop solution for your Frigidaire refrigerator maintenance, repair service needs. Let our Frigidaire experts handle this problem and customize a repair solution for you.