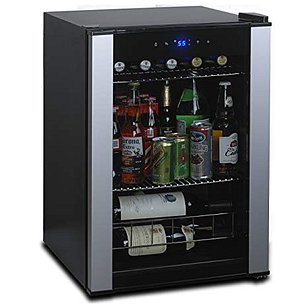 We have been in business 15 years
Why choose NY Refrigerator
Repair Specialists
Over 15 years of experience in the industry

Certified, trained and insured technicians

Flat rate pricing (No hourly rates, no extra charges for late or extra hours or weekends)

Same day repair services

90 percent of repairs done on initial visit

Flexible and convenient appointments

Profesional 24/7 customer service

No payment until your appliance is fixed

Extended warranty for parts and labor

We are local, based in the New York City

Fully-stocked trucks (our technicians have large inventory of major parts in stock in our vans)

Free service call if we do the job
Pros of beverage refrigerators:
LED interior light
Energy saving
Easy setup
3-grade temperature control
Cons of beverage refrigerators:
Low storage space
The Beverage Refrigerator is the ideal choice if one wants to store a considerable amount of canned beverages within a mini fridge. This mini fridge comes in various size variants ranging from 52 can storage to 120 can storage. The Beverage Refrigerator sports a steel shell cabinet made from stainless steel and incorporated with a trimmed glass door, giving it absolute durability and reliability.
It also features a manual 3-grade temperature control knob that allows to cycle between temperature ranges of 39°F to 61°F which allows for quick refrigeration with high efficiency.
It also features customizable beverage shelf trays with easy-to-remove slide-out chrome shelves, capable of storing standard 12 oz. canned beverages. This mini fridge is not only durable, but it is also extremely easy to install within an environment that has a power outlet. The interior LED lighting, and rugged looks make it the perfect companion for storing beverages within RV's, offices and even homes. The high-powered compressor based cooling ensures cooling your favorite beverages to the desired optimum temperatures.
Let us prove we are different
We fix all brands and models
We do repair and maintenance
BEVERAGE CENTERS (BEVERAGE REFRIGERATOR)