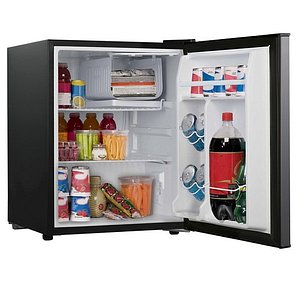 We have been in business 15 years
We do repair and maintenance
Pros of mini fridge:
Saves energy and has low noise

Comes with a separate compartment for extra chilling

Technology is environment-friendly

The best option for small spaces

Portable
Unreliable

Have to be kept running constantly

Not enough storage space
Mini fridges are all the rage in the market these days. There is a host of appliances available that range in size and storage capacity, price range, and functionality. They have taken the last decade by storm and their demand will continue to rise in the coming years.
One of the many customers of mini fridges include students who live in dorms, studio apartment owners and rich families who wants an additional refrigerator in their bedrooms. The units do not cost an arm and a leg to buy, are easily portable from one place to another and do not cost thousands in electricity bills. They are the perfect solution for broke students who need a fridge to fit in a small space.
Mini fridges are also ideal for those of you who want to have a cold storage space in your office, recreation room, garage basement etc. Store your beers easily in a fridge and keep them handy, whether you are working or throwing a party in your game room.
Mini refrigerators with lock system are the perfect solution for those of you who want to keep your alcoholic beverages far away from the hands of kids and teenagers. Just stuff them in your mini fridge, lock it and forget all about it.
If you are someone who moves a lot, consider getting a mini fridge instead of a huge unit. They come in all sizes from 1 cubic meters to 5, making it effortless to transport them.
They are also the perfect solution for those of you looking for a temporary solution to keep your food fresh, until you get a permanent unit. Since they are cheap and multifunctional, you can get one now and use it for additional storage later on. They are also energy efficient which will help you cut down on monthly bills.
Many of these mini fridges come with freezer function. If you already have a freezer-less unit, you can simply get a mini fridge with a wide temperature range and be done with it, instead of getting a whole new refrigerator.
Let us prove we are different
We fix all brands and models
Why choose NY Refrigerator
Repair Specialists
Over 15 years of experience in the industry

Certified, trained and insured technicians

Flat rate pricing (No hourly rates, no extra charges for late or extra hours or weekends)

Same day repair services

90 percent of repairs done on initial visit

Flexible and convenient appointments

Profesional 24/7 customer service

No payment until your appliance is fixed

Extended warranty for parts and labor

We are local, based in the New York City

Fully-stocked trucks (our technicians have large inventory of major parts in stock in our vans)

Free service call if we do the job
COMPACT REFRIGERATOR (MINI FRIDGE)
UNDERCOUNTER REFRIGERATOR (MINI FRIDGE)
Under the counter mini fridges are the largest of mini-fridges available. They have a great amount of storage space available, and are well isolated. They also have thermostat controls, usually for both sections of the fridge, the refrigerator section as well as the freezer section. However, they are extremely large and expensive and are meant to be kept in one place. They cannot be carried around with ease. Some of these even have features such as lights, locking mechanisms and more. However, sometimes these fridges are simply too large for any purpose and are preferred by people who wouldn't have much use of a full-sized refrigerator in the first place.
Pros of undercounter mini fridges:
Well insulated

Economically efficient

Can be used as a backup fridge

Thermostat Control

Separate Refrigeration Area

Ample amounts of space available

Pros of undercounter mini fridges:
Too large to fit anywhere. It needs a fixed place with lots of room to accommodate it.

The most expensive kind of mini-fridge.

Extremely heavy. DIfficult to move around.

Not meant to be portable. Meant as a substitute for a larger fridge in a limited space.