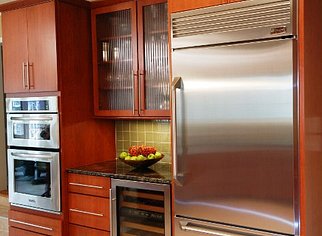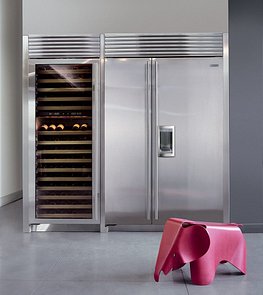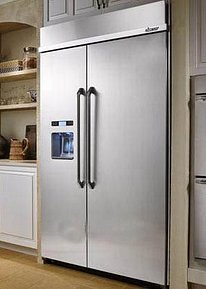 We have been in business 15 years
1. More Free Space
A built-in refrigerator is an integral part of today's surging tendency to create more space. Installing a modern low-height built-in fridge helps homeowners gain more counter space, making it an ideal solution for those anxious to save space. Moving your fridge into a lower kitchen cabinet also frees up precious space, enough to convert into more counter, which is usually the most valuable kitchen asset.
2. Smooth and Stylish
Most of the modern built-in refrigerators are made of either stainless steel or aluminum, which results in their capability to last long while offering the same great benefits. Built-in refrigerators are designed to complement modern kitchen appliances, and you can always choose from a broad range of materials, textures, colors, and designs.
3. Environmentally friendly
All built-in fridges are energy star certified since most of them were manufactured after 2002. As energy-saving appliances, installing a built-in refrigerator not only contributes towards going green and saving the environment but also helps you to cut down on your power bill.
4. Better traffic flow
Even when placed in one of the kitchen's corners, a fridge can often be a source of annoyance, especially if the space in your kitchen is limited. While standard refrigerators usually stick out of the wall, making movement around that particular area more difficult, installing a built-in refrigerator is bound to enhance traffic flow in your kitchen area. You can, therefore, invite more guests and throw more parties without having to worry about overcrowding.
5. A more streamlined look
Built-in refrigerators enhance the appeal of kitchen areas by contributing towards a more streamlined and uniform profile. A built-in fridge does not protrude but fits flush with the surrounding kitchen cabinetry, which results in a cleaner, sleek, high-end appearance.
6. Easy to Fit
Although they are ideally hidden inside the counter, built-in refrigerators function just as well as standard fridges. The depth of a built-in refrigerator can vary since they are structurally designed to fit cabinet depths of 231/2 to 26 inches, which is slightly shorter than normal appliances, and therefore easy to fit into many spaces.
Why choose NY Refrigerator
Repair Specialists
Over 15 years of experience in the industry

Certified, trained and insured technicians

Flat rate pricing (No hourly rates, no extra charges for late or extra hours or weekends)

Same day repair services

90 percent of repairs done on initial visit

Flexible and convenient appointments

Profesional 24/7 customer service

No payment until your appliance is fixed

Extended warranty for parts and labor

We are local, based in the New York City

Fully-stocked trucks (our technicians have large inventory of major parts in stock in our vans)

Free service call if we do the job
We fix all brands and models
We do repair and maintenance
Let us prove we are different
Built-in refrigerators have gained popularity in recent years due to an increased emphasis on upscale kitchen design. They come in many more size and style options than freestanding refrigerators, and can be customized to match your cabinetry and overall kitchen color scheme.
Built-in fridges are generally taller than freestanding models, although they are limited to cabinet depth (24") so they can be installed seamlessly flush with kitchen cabinetry. They come in many different sizes and can be as wide as 48". Most built-in refrigerators have the compressors on top (as opposed to the bottom with most freestanding models). Several terms are used to describe built-in refrigeration, but they all basically refer to any refrigerator that fits flush with cabinetry or can be placed into a wall cavity.
Common refrigerator problems we solve
Refrigerator is not cooling

Refrigerator ice maker is not making ice cubes

Refrigerator door needs gasket replacement

Refrigerator water dispenser is not working

Refrigerator ice dispenser is not working

Refrigerator door is wet inside

Refrigerator compressor is not working

Refrigerator compressor is clicking

Refrigerator is leaking water

Refrigerator coils need to be cleaned

Refrigerator needs routine maintenance

Refrigerator stopped cooling completely

Frost buildup in the refrigerator

Refrigerator drain is clogged

Refrigerator is beeping or alarm is on

Refrigerator control panel is down

Refrigerator making noise or too loud

Refrigerator is vibrating, shaking

Refrigerator is freezing food

Evaporator fan motor is not spinning

Refrigerator service sign is on

Refrigerator light is not working

Refrigerator has freon leak issue

And any other refrigerator problems
Refrigerator parts we replace or repair
Refrigerator circuit board

Refrigerator compressor

Compressor run capacitor

Compressor start relay

Condenser fan motor

Defrost heater

Refrigerator evaporator

Evaporator fan motor

Heat exchange

Ice maker kit

Ice dispenser motor

Ice maker assembly

Ice maker control module

Ice maker fill tube

Ice maker optic boards

Inverter or compressor electronics

Light switch

Overload/PTC relay

Power control board

Refrigerator door

Temperature control board

Temperature control panel or display

Water inlet valve

Water dispenser

And other parts
We service the following neighborhoods of New York City
Manhattan: Alphabet City, Battery Park City, Central Park, Chelsea, Chinatown, East Harlem, East Village, Fashion District, Financial District, Flatiron District, Gramercy Park, Greenwich Village, Harlem, Hell's Kitchen, Inwood, Kips Bay, Lincoln Square, Lower East Side, Manhattan Valley, Midtown East, Midtown West, Morningside Heights, Murray Hill, NoLita/Little Italy, Roosevelt Island, SoHo, Times Square, Tribeca, Upper East Side, Upper West Side, Washington Heights, West Village and others.
Brooklyn: Bay Ridge, Bedford-Stuyvesant, Boerum Hill, Borough Park, Brighton Beach, Brooklyn Heights, Bushwick, Carroll Gardens, Clinton Hill, Cobble Hill, Crown Heights, Downtown Brooklyn, Dumbo, Dyker Heights, Flatbush, Fort Greene, Gowanus, Gravesend, Greenpoint, Kensington, Marine Park, Midwood, Park Slope, Prospect Heights, Prospect Park, Red Hook, Sheepshead Bay, Sunset Park, Williamsburg, Windsor Terrace and others.
Queens: Astoria, Bayside, Beechhurst, College Point, Corona, Elmhurst, Flushing, Forest Hills, Fresh Meadows, Jackson Heights, Jamaica Estates, Jamaica Hills, Kew Gardens, Long Island City, Maspeth, Middle Village, Queens Village, Rego Park, Ridgewood, Sunnyside, Whitestone, Woodside and others.
Fully-integrated refrigerators or freezers are built-in units that can be customized to match the cabinetry in your kitchen and create a streamlined look.
Custom built-in refrigeration is intended to blend in with the rest of your kitchen.
The first brand which introduced the build-in refrigerator was Sub-zero. It is still the flagman of the segment with the widest option available for the customers. Sub-zero's mission has always been keeping food fresher for a longer period of time. Their vacuum seal keeps outside air from infiltrating into the refrigerator. Their two compressors keep the moist refrigerator air away from the dryer air in the freezer, so tastes and odors do not transfer.
The popular Viking built-in refrigerator is available in 12 styles, including custom panel options, and sizes from 30" to 48" wide.
Viking's freestanding and built-in refrigerators share many of Viking's patented features, like Viking's PlasmaCluster Ion air purification system. The Viking's Custom Panel refrigerators and freezers give you the option of using a custom panel cabinet so that appliances fit a seamlessly with the rest of your kitchen décor.
For sharp looks and restaurant quality features, a Northland built-in refrigerator is a very enticing option. Northland refrigeration units have a patented cooling module at the top of the cabinet. This design leaves more storage space inside the refrigerator. Northland refrigeration units are available in stainless steel, glass door or panel-ready models.
A built-in Liebherr refrigerator is another upscale choice for the integrated kitchen. Liebherr's key feature is the Biofresh system, which helps to lock in vitamins and minerals in food. Liebherr also features freestanding refrigerator/freezers with the same patented BioFresh system in 24" to 60" widths and several door styles.
PROS OF BUIlT-IN REFRIGERATORS
1. Built-in refrigerators are very expensive
Built-in fridges typically start in the $5,000 range and go up from there. For example, KitchenAid built-in options can be $7,000 to $9,000. Yet you can get a top-of-the-line freestanding version for around $2,000.
2. They have to be profesionally installed.
Depending on how handy you are, you might need experts to help with the delivery and the installation. We're talking about the electrical and plumbing stuff, and also any cabinetry work that might be required.
3. Shorter crispers and deli compartments
Although this type of fridge provides better access than standard refrigerators, the drawers are slightly shorter, which can make a significant difference if you need to store longer items such as celery and plastic storage containers.
4. Smaller freezer compartment
Another disadvantage of built-in refrigerators is the fact that if present at all, the freezer compartment holds less compared to regular fridges. You should expect less capacity than what a standard freezer offers regardless of whether you choose one featuring the freezer section as a bottom drawer or top mount.
5. Inconvenience
While this type of refrigerator allows you to make efficient use of your kitchen space, they can also be quite challenging if you have back issues or any other disability. Trying to reach for something in the bottom level can prove to be a hassle.
CONS OF BUILT-IN REFRIGERATORS