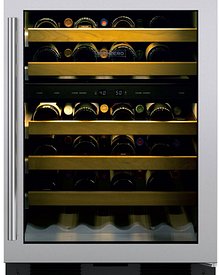 We have been in business 15 years
Why choose NY Refrigerator
Repair Specialists
Over 15 years of experience in the industry

Certified, trained and insured technicians

Flat rate pricing (No hourly rates, no extra charges for late or extra hours or weekends)

Same day repair services

90 percent of repairs done on initial visit

Flexible and convenient appointments

Profesional 24/7 customer service

No payment until your appliance is fixed

Extended warranty for parts and labor

We are local, based in the New York City

Fully-stocked trucks (our technicians have large inventory of major parts in stock in our vans)

Free service call if we do the job
Let us prove we are different
We fix all brands and models
We do repair and maintenance
WINE COOLERS (WINE FRIDGES)
If you are a beginner to wine collection, it might be a good idea to get a single zone cooling fridge that has limited temperature and humidity control. It is the perfect wine cooler for those of you who only like red or only white wines.
Dual zone cooling wine coolers are for more sophisticated people. If you have been a collector for a while and want to upgrade your old unit, get one of these babies. You can store both red and white wines in these fridges, as they come with a whole range of temperature and humidity control features.
Most wine coolers come with an ultra quiet feature which is an absolute necessity when it comes to wine storage. Excessive noise and humming can disturb the sediments of an expensive wine and thus alter the taste.
Wine coolers also often come with a glass door. You can easily see what bottles you have left and do not have to open the fridge again and again. That will help in least disturbance of the wine and maximum cooling. The wine coolers feature external temperature control, you can change the setting manually, exactly the way you require.
If you are the kind of person who likes everything color coordinated, you will love built-in wine coolers. These fridges come with specialized ventilation so you easily get them integrated into your kitchen cabinets for a sleek and sophisticated finish.
Best brands for wine coolers: Sub-zero, Viking, Thermador, Marvel, Haier, Westinghouse.
Pros of wine coolers:
Temperature and humidity control

Silent running

Best for wine collectors
Cons of wine coolers:
Can only be used for wine storage

Expensive
We service the following neighborhoods of New York City
Manhattan: Alphabet City, Battery Park City, Central Park, Chelsea, Chinatown, East Harlem, East Village, Fashion District, Financial District, Flatiron District, Gramercy Park, Greenwich Village, Harlem, Hell's Kitchen, Inwood, Kips Bay, Lincoln Square, Lower East Side, Manhattan Valley, Midtown East, Midtown West, Morningside Heights, Murray Hill, NoLita/Little Italy, Roosevelt Island, SoHo, Times Square, Tribeca, Upper East Side, Upper West Side, Washington Heights, West Village and others.
Brooklyn: Bay Ridge, Bedford-Stuyvesant, Boerum Hill, Borough Park, Brighton Beach, Brooklyn Heights, Bushwick, Carroll Gardens, Clinton Hill, Cobble Hill, Crown Heights, Downtown Brooklyn, Dumbo, Dyker Heights, Flatbush, Fort Greene, Gowanus, Gravesend, Greenpoint, Kensington, Marine Park, Midwood, Park Slope, Prospect Heights, Prospect Park, Red Hook, Sheepshead Bay, Sunset Park, Williamsburg, Windsor Terrace and others.
Queens: Astoria, Bayside, Beechhurst, College Point, Corona, Elmhurst, Flushing, Forest Hills, Fresh Meadows, Jackson Heights, Jamaica Estates, Jamaica Hills, Kew Gardens, Long Island City, Maspeth, Middle Village, Queens Village, Rego Park, Ridgewood, Sunnyside, Whitestone, Woodside and others.
Even side by side wine coolers are made by the majority of high-end and niche brands unfortunately nothing lasts forever, based on the use the even the best brands may need some maintenance.
NY Refrigerator Repair Specialists proudly can take care of the issue when it happens. For the best wine cooler repair service in New York City area hire NY Refrigerator Repair Specialists as it repairs and services all types and brands of wine fridges.
We provide our customers with fast, reliable and affordable wine cooler repair repair. NY Refrigerator Repair Specialists is your one-stop solution for your wine cooler, wine refrigerator maintenance, repair service needs.
So when you have an issue with your wine cooler to which you have got used to over the course of decades, don't get frustrated, all you need to do is contact us! Let our winie cooler, wine refrigerator repair experts handle this problem and customize a repair solution for you.
Refrigerator parts we replace or repair
Refrigerator circuit board

Refrigerator compressor

Compressor run capacitor

Compressor start relay

Condenser fan motor

Defrost heater

Refrigerator evaporator

Evaporator fan motor

Heat exchange

Ice dispenser motor

Ice maker assembly

Ice maker control module

Inverter or compressor electronics

Light switch

Overload/PTC relay

Power control board

Refrigerator door

Temperature control board

Temperature control panel or display

Water inlet valve

And other parts
The wine cooler is a cool appliance, specially created to provide optimum conditions for wines.
Regular refrigerators are not ideal for wine storage. The temperature cannot be controlled precisely, there is no humidity control. Certain types of wines are very sensitive to both these factors. Not to mention the sediments that would get disturbed every time you open your fridge. These factors can adversely affect the taste and odor of your wine.
Although there are plenty of fridges that come with specialized compartments for storing wine, they often do not have the same range of features that a specialized wine cooler offers. They cannot be cooled enough and the humidity control is always sketchy.
Common refrigerator problems we solve
Refrigerator is not cooling

Refrigerator ice maker is not making ice cubes

Refrigerator door needs gasket replacement

Refrigerator water dispenser is not working

Refrigerator ice dispenser is not working

Refrigerator door is wet inside

Refrigerator compressor is not working

Refrigerator compressor is clicking

Refrigerator is leaking water

Refrigerator coils need to be cleaned

Refrigerator needs routine maintenance

Refrigerator stopped cooling completely

Frost buildup in the refrigerator

Refrigerator drain is clogged

Refrigerator is beeping or alarm is on

Refrigerator control panel is down

Refrigerator making noise or too loud

Refrigerator is vibrating, shaking

Refrigerator is freezing food

Evaporator fan motor is not spinning

Refrigerator service sign is on

Refrigerator light is not working

Refrigerator has freon leak issue

And any other refrigerator problems